NLURA has a staff experienced in successfully guiding our clients through compliance with federal and state cultural resource laws and regulations, including Section 106 and 110 of the National Historic Preservation Act (NHPA) and the National Environmental Policy Act (NEPA). NLURA has expertly managed over 500 cultural resource projects across Alaska since 1991. We manage projects ranging from desktop reviews through complex site mitigation and also facilitate consultation between our clients, regulatory agencies, and other consulting parties.
---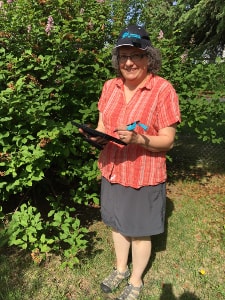 Mary Ann Sweeney
GIS Coordinator – Fairbanks Office
MA, Anthropology, University of Alaska Fairbanks 1994
B.A. with honors, Archaeology and Anthropology, Boston University 1989
Mary Ann has twenty years of archaeological, historical research, and GIS experience in Alaska. Mary Ann coordinates and conducts GIS components of all NLURA projects. She has completed GIS analysis and cartographic support for Section 106, Section 110, NEPA, and FERC permitting. Her archaeological background helps to inform her geospatial analysis, including the development of predictive models. She is also well-versed in custom geodatabase design, FGDC metadata, quality assurance, and client deliverables. Her cartographic skill set includes production of map books, map template design, and historic imagery sourcing.  She is also experienced at GPS field data capture, including mobile platforms (tablet, smart phone, or trimble), mobile software (Arc Collector, ArcPad, TerraSync), and external receivers.  Her knowledge of ArcGIS, ArcPro and ArcGIS Online facilitates field to office data synchronization, quality control, and provides support for multiple projects and field crews.
In addition to GIS, Mary Ann's research specialties include historical archaeology of mining and frontier settlements, late prehistory, culture contact and change, zooarchaeology, and public outreach. She is a member of the Alaska Anthropological Association.
---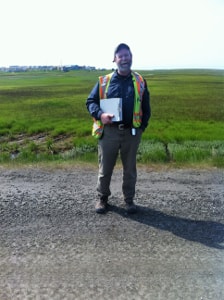 Morgan Blanchard
Senior Project Archaeologist – Anchorage Office
2010 Ph.D., Anthropology.  University of Nevada, Reno
2002 M.A., Anthropology.  University of Nevada, Reno
1998 B.A., History (American).  University of California, Davis
Morgan has more than twenty years of experience in historical research and archaeology, with fifteen years of Alaskan experience. Morgan has assisted clients with Section 106 and NEPA compliance for permitting and has worked successfully with clients in many fields in Alaska, including transportation, energy exploration and development, communication, mining, and the settlement of legal access claims. Recently, he led a community outreach project centering on research and oral history of the Japanese Internment Camp at Fort Richardson in Anchorage. Prior to his arrival in Alaska, Morgan worked as a field archaeologist and field supervisor for the survey and excavation of settlements, mining and military sites in western states with the State of California Department of Parks and Recreation and the University of Nevada, Reno.
He specializes in historical archaeology with an emphasis on military archaeology, communications archaeology, and mining archaeology. He is a member of the Register of Professional Archaeologists, Society for American Archaeology, Society for Historical Archaeology, and the Alaska  Anthropological Association.
---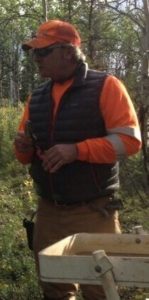 John Hemmeter
Archaeological Technician – Anchorage Office
M.A., Anthropology, University of Alaska-Anchorage, in progress
B.A., Anthropology, University of  Alaska, Anchorage, 2015
John Hemmeter has over 8 years of Alaskan experience in cultural resource management. His areas of specialization include National Historic Preservation Act (NHPA) Section 106 and Section 110 compliance, Alaska Historic Preservation Act (AHPA) compliance, Historic and prehistoric archaeology. Mr. Hemmeter has conducted desktop assessment, Level I and Level II survey, and National Register of Historic Places (NRHP) and contributed to evaluations and eligibility recommendations in support of projects throughout Alaska. As a result, Mr. Hemmeter is well-versed in the prehistory and history of Alaska and has extensive experience with historic document research at Alaska-based facilities, including UAF Rasmussen Library, USGS archives, the Alaska Resource Library and Information Services (ARLIS), UAA Archives and Special Collections, Project Jukebox, BLM archives, The National Archives, and local historic military records.
John is a member of the Alaska Anthropological Association and Society for Historical Archaeology.
---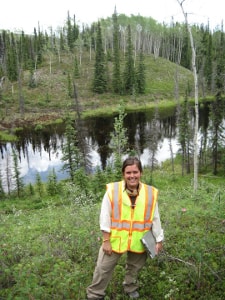 Lindsay Simmons
General Manager – Anchorage Office
M.A., Anthropology, University of Cincinnati, 2010
B.A., Anthropology, Eckerd College, 2007
Lindsay has over 13 years of archaeological experience with 10 years Alaska experience. As General Manager, Lindsay develops budgets and proposals, communicates with clients and agencies, and oversees company administrative items. She provides planning, scheduling, logistics, and operational support for NLURA project archaeologists and researchers.  Her expertise in the areas of planning and scheduling complex inter-related projects assures that NLURA project tasks are carried out in a timely, cost-effective manner that provides on time and on budget deliverables to clients. In addition to her operational role, Lindsay has statewide research and fieldwork experience, particularly with FERC and NEPA-driven archaeology projects in Interior Alaska and the North Slope of Alaska.
As an archaeologist, she specializes in field survey strategies, archaeological excavation techniques, ceramic analysis, and material culture studies. She is a member of the Register of Professional Archaeologists, Society for American Archaeology, and the Alaska Anthropological Association.
---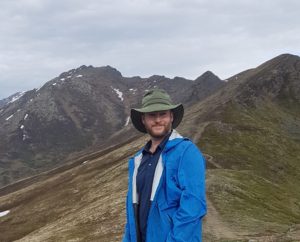 Myles Gobeille
GIS Specialist – Anchorage Office
B.S., Earth and Environmental Sciences, Lehigh University, 2003
Myles has over 15 years of GIS-related experience. His field experience includes GIS data collection for wetlands,  endangered species, noise pollution, and cultural resources surveys.  Myles is responsible for project geodatabase design, creation and management, data QA/QC and analysis, map design, creation and editing, and GPS system and program troubleshooting.
---